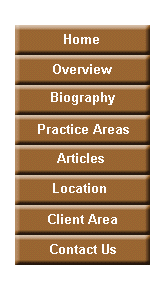 The Thalheimer Law Firm
1201 Elm Street
1919 Renaissance Tower
Dallas, Texas 75270-2118
214w747w4900
Fax 214w748w4353

www.thallaw.com
State Bar Of Texas Information
The State Bar of Texas and the Texas Supreme Court require that clients are provided the Supreme Court's Lawyer's Creed and the State Bar's Grievance procedures for Complaints Against Lawyers. Firm clients may obtain a printed copy of these materials from the Firm or you may review them by clicking on the links below.
Texas State Bar Attorney Grievance Information
Texas Supreme Court Lawyer's Creed--A Mandate for Professionalism
| Home | Overview | Biography | Practice Areas | Articles | Location | Client Area | Contact |
Copyrightę 2000, The Thalheimer Law Firm, All Rights Reserved.