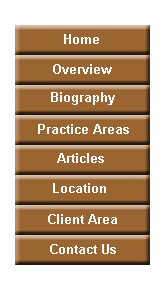 The Thalheimer Law Firm
1201 Elm Street
1919 Renaissance Tower
Dallas, Texas 75270-2118
214w747w4900
Fax 214w748w4353

www.thallaw.com

EXCELLENCE
RESPONSIVENESS
CREATIVITY
VALUE
EXCELLENCE
Jonathan Thalheimer and the professionals at The Thalheimer Law Firm are dedicated to client satisfaction. Mr. Thalheimer began his practice with a large Dallas law firm in 1982 and founded the Thalheimer Law Firm in 1987. Martindale-Hubbell, the publisher of the most widely recognized law firm directory in the United States, has continually given The Thalheimer Law Firm the highest possible rating of "AV". The Firm represents clients throughout the country, ranging from individuals to NYSE companies. In the last five years, the Firm has completed more than $1 billion worth of transactions in more than 30 states.
CREATIVITY
Under the leadership of Jonathan Thalheimer, The Thalheimer Law Firm is committed to helping its clients. Its knowledge of and experience in many aspects of business and commercial practices including contracts, real estate, mortgage lending, loan servicing, litigation, tax, securities, intellectual property, etc. allow the Firm to effectively handle a wide range of matters for the sophisticated entrepreneurial client. Our size and experience insure the client receives continuity of representation and the benefit of a broad perspective in the handling of its matters. We at The Thalheimer Law Firm are often able to anticipate potential obstacles and suggest creative and effective solutions for the client.
RESPONSIVENESS
The Thalheimer Law Firm is sensitive to the client's need for consistent timely information and communications regarding all aspects of the client's matter, including fees. The Firm has sought from its inception to leverage available technology to provide quick and reliable service and communications to its clients. Because the Firm is small, the client never gets lost in the shuffle.
VALUE
The Thalheimer Firm offers clients the benefits of sophisticated legal services in a small firm environment. The Firm's wide range of experience, emphasis on technology, creativity, responsiveness and size assure the client that it will never pay for unnecessary overhead or personnel but will always receive cost-effective creative results in their representation.

| Home | Overview | Biography | Practice Areas | Articles | Location | Client Area | Contact |
Copyrightę 2000, The Thalheimer Law Firm, All Rights Reserved.